Interactive Exhibits At M.O.M.
Mother The Job
Stop, Look, Read; The story of San Francisco based artist Alexia Nye Jackson and her exhibit about mother-work and the value of human capital. Make sure to pull up a bench and watch Alexia's short film 'All Day', to the left of the front desk when you walk in.
Realityworks™ Pregnancy Simulators & Learning Center
Try on the pregnancy simulator vests. Aren't they heavy? Try wearing the pregnancy vest when you take your shoes off and then when walking around the museum. Gestating a baby is hard work! Stop a moment and peruse our library and notice some of our student research and archived articles.
Library
Find support, information and education by picking up one of our many books on motherhood, creativity, history, parenting and activism.
Story Of M.O.M.
Come share your stories and voices. What are your experiences with caregiving and family? Help us amplify the issues, concerns, joys and roadblocks we face. Finding our common thread can be as simple as participating in one of our interactive exhibits at the Museum Of Motherhood….
Meet The Experts
M.O.M. presents local volunteers and experts, including pediatricians, social workers, psychologists, artists and early childhood specialists who are available to converse and answer questions you might have. (See our online calendar or call us for availability)
Global Motherhood
Come examine the materials presented at the Global Motherhood exhibit. SavingMothers.org works with women in need in Guatemala and you can view their handmade birth kits, maternal health facts and the 'Did You Know', Global Motherhood book created by one of our students.
Moms Of Rock
Stop and watch Kate Perotti's award-winning film about the Moms Of Rock!
Seneca Falls Sitting Room and Her-storic Tableau
Did you know the Suffragette movement in the United States got its momentum when Kady Stanton and Susan B. Anthony organized the first convention days in Seneca Falls, NY. The National Women's Hall Of Fame is also hosted in Seneca Falls, only five hours north of New York City.
Caregiving Perspectives
M.O.M. is home to many perspectives, including the perspectives of fathers, caregivers and (m)others of all kinds.
Art Under The Giving Tree
There are multiple art projects you can do while you're at M.O.M. Take advantage of our suggestions and supplies adding to our Fe-Mail Exhibit, Giving Tree or 5 Million Wishes Campaign.
Make Music
Play drums! Shake shakers! Make music! 
_
Mother The Job – In Black and White
In Black and White is  photography comparing sixteen jobs mothers perform daily (cook, housekeeper, chauffeur, etc.) that are economically unrewarded and unrespected when performed domestically but are accorded monetary and social value in the marketplace, once again asking the viewer – "Isn't 'mother' a job?"  The market value of each job is listed as well.  Items used to execute these jobs are found all together inside a large Plexiglas box and represent the unrecognized and unrewarded labor expected of one group of people– mothers.  Items include: vacuum cleaner, board games, car keys, broom and mop, pots and pans, toothbrushes, crayons and much, much more.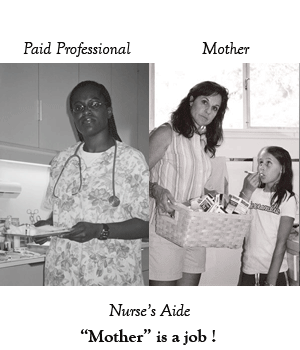 Mother The Job – Artist Website
---